Excellence in Acute and Chronic Pain Rehabilitation in Camarillo
We know that back pain, neck pain, arthritic pain, or joint pain can be very debilitating. We specialize in treating acute as well as chronic pain. In addition to using a manual approach for pain reduction, we use infrared laser therapy for soft tissue injuries and skilled Myofascial Release techniques to reduce muscle tension.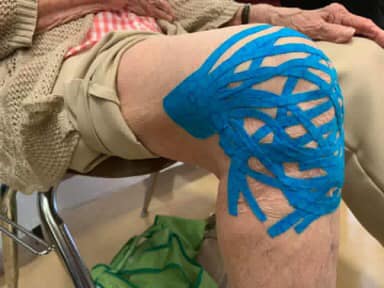 We love treating athletes of all ages, from the 8 year old soccer player to the 70 year old runner. We are certified in Kinesiotaping, which is used by professional athletes and celebrities to help reduce swelling and pain of all sorts. We provide individualized, bio-mechanical evaluations for each person that we treat to help them better understand rehabilitation. The goal is to not only treat the injury but find the main source and perpetrating factors of the injury. Our solid core-stabilization program will make you stronger, reduce your potential for injury, and improve your performance.

Camarillo Physical Therapy is one of the few Physical Therapy clinics that provide premium individual care to the senior population and Veterans. We offer treatment for a wide range of conditions from hip and knee replacement rehabilitation, arthritis, degenerative disc disease to balance rehab. Our office is ADA accessible, with no steps to enter and extra space for any necessary accommodations.
Our Mission
When you walk into Camarillo Physical Therapy you are not just "one of the patients" we see. Each person gets one on one customized care with a detailed evaluation of his/her condition. We believe that during rehabilitation, the patient should be educated by their therapist in order to maintain maximum flexibility and pain-free living long after our work ends. On top of the 20+ years of experience that our physical therapists have, they are also very diligent in continuing their education to bring the best quality of physical therapy to Camarillo.
Next Steps…
Contact us today at 805-383-0470 to schedule an appointment, evaluation or to ask us a question.  You may also fill out a contact form by clicking on the contact button.
The problem with Sage is she is too good! She ends up having to discharge her patients. If you are getting nowhere with epidurals, painkillers and other physical therapy come to Sage. She helped me with a problem I had for months in two visits. Jean K