PHYSICAL THERAPY SERVICES
We specialize in rehabilitating all kinds of orthopedic conditions, acute and chronic. Whether you are a weekend warrior athlete that is recovering from a torn calf muscle. A senior citizen dealing with pain or rehabilitation from a surgery like a knee replacement or hip replacement. A student athlete that is in need of a stretching and strengthening program to eliminate that recurring ankle injury. We are especially good with patients suffering from peripheral neuropathy.
We have certifications in Kinesiotaping, Back Education Training, PNF ( Proprioceptive Neuromuscular Facilitation) and several other techniques to help you reach your goals and realize your potential.
We have treated a variety of high school soccer players, college athletes and even an NFL player for various injuries that have needed physical therapy. Our youngest patient to date has been 8 to our most senior at 97 years of age.
We strive to help you achieve your goals, be it just being able to go about daily life pain free or to run a marathon with less pain. These are real patients and scenarios we have encountered in our practice with therapists with 18 years of work experience which helps us understand a wide range of problems.
COMMON AILMENTS TREATED
Here is a list of some of the more common physical ailments and the rehabilitation services we provide to our patients:
Hip Joint Rehabilitation
Knee Joint Rehabilitation
Shoulder Joint Rehabilitation
Foot Pain
Basketball Injuries
Dance Injuries
Soccer Injuries
Football Injuries
Track and Field Injuries
Shoulder Injuries
Carpal Tunnel Syndrome
Tendinitis
Back Pain and Education Training
Plans to Eliminate Recurring Injuries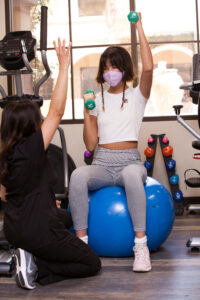 MAKE YOUR APPOINTMENT TODAY
Would you like to learn more about how we can work together to help you?
Please call our office at (805) 383-0470 and speak with our front office staff to make your next appointment or click on the CONTACT button below to send us your questions and/or requests.